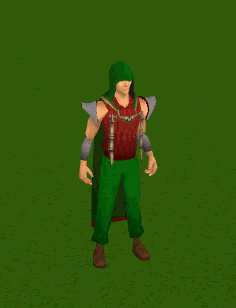 AutoFighter NX
The best RS combat bot ever made. Get millions of XP while doing NOTHING!
Simply put, it's Saradomin's gift to the tired and weary players of RS2! AutoFighter NX is a one-of-a-kind bot that is able to detect and conquer every last monster in the entire Realm of RS2. It can do this because it's packed with more features than any other bot on the market - guaranteed! Stop wasting your time clicking on a never-ending supply of NPC's (monsters) and start leveling today!
This amazing bot will train Range just as easily as it trains Attack, Strength, Defense, and Constitution -- just equip your favorite weapon: bow, crossbow, throwing weapons, or chinchompas and watch the gold pile up in your bank and the experience pile up on your account.
When you purchase AutoFighter NX, you are also purchasing the peace of mind that this bot is totally undetectable by Jagex as long as you run the bot smartly and let the program work its magic.
AutoFighter NX is capable of doing anything that you need to make training melee and range quick, easy, and efficient. Below are some of the totally customizable features that this bot has to offer, but there are too many to list:
User-friendly GUI (Graphical User Interface) to make setup a breeze.
Ability to save fighting locations and loot lists for quick setup
Fights any attackable NPC in RS2
Automatically uses your special attack
Fights more aggressively in multi-combat areas
Full range support & picks up arrows
Awesome new breaking system.
Picks up any loot that you could possibly want
Deposits loot in the nearest bank no matter where you are
— Supports using tele tabs and glory teleports to bank the loot
Supports high alchemy, which can turn loot into gold
Ability to collect bones and either bury or convert them to peaches
Supports the use of Guthans
Eats and withdraws food from the bank when needed
Logout when low/no food is left in the bank
Detailed and easy-to-read status display
Full ranging support w/ arrow pickup
Human-like breaking & automatically logs back in and gets back to work
AutoFighter NX Detailed Walk-through by Easy TC
Little tip click on the images to enlarge.
Fighter Tab
Here you can load saved FightOptionProfiles which includes the Fight spot, Monsters, Fight options and Misc options.

Here you set the food you wish to use and how much to withdraw each trip.

This sets the health percentage you want the bot to eat food at.

This sets the center title (fight spot) and distance in all direction that you wish to fight in. Any Monsters/items further away will be ignored.

This allows you set breaks for the bot. I usually leave it at default settings.
Note: Once bot is started a grey Circle is placed around the fight area on the mini-map)
Monsters Tab
This will search the area for monsters and add them to the list below.

Click the monster(s) that you wish to fight.

This gives you the option to save the Monsters. Name it and it will appear it the Profile Selection field on the Fighter tab.

I'm actually not 2 sure what this is. I never use it lol
Loot Profiles Tab
Search for the items you wish to loot from dead monsters.

This option is really handy. It Loots any value over X thousand. (x being the number you set it to)

An option to save the loot profile. (Note: When you load a Profile for the Profile Selection back on the Fighter Tab it WILL not load this)

An Option to load a saved loot profile.
Bank Profiles Tab
Search for an item and its quantity that you either wish to withdrew from the bank or ignore in your characters inventory.

An option to save the bank profile. (Note: When you load a Profile for the Profile Selection back on the Fighter Tab it WILL not load this)

An option to Load a Saved bank profile.
Alchemy Profiles Tab
I decided the leave this tab out of the Walk-through on the count of is basically the same as the loot and bank Tabs. You search for an item that you want to alchemy and add it to the alchemy list by clicking it. Though bare in mind that the monster has to actually drop the item and you have to include it in the Loot Profile. Also 1 more thing, alchemy uses nature runes and fires runes so you would also have to include them in the banking Profile either ignoring them or withdrew a set amount when it banks.
Comabt
This option sets the center tile to a safe-spot. So if your training Mage, range and even melee and you know of a safe-spot in the area in which you want to train set the center tile on it and eneable this option. (The Center tile is the "Set Current tile" Setting back on the Fighter Tab)

Haven't used this option yet.

Tells the bot that you are fighting in a multi combat area.

Tells the bot if the NPC (monster) you are tyring to fight is behind a fence or just unreachable. Example: the lesser demon in the wizards tower.

Tells the bot if the NPC you are trying to fight is a ghostly type. If so it wont be visible on Mini-map.

Tells the bot to use prayer protection of you choice. (Be advised I'm pretty sure the bot automatically uses prayer pots when this is being used)

Summon a familiar of your choice and Choice to use its special.

Tells the bot to you use weapon special. And choice to switch weapon's and use another weapons special.

Saves these Options to the FightOptionProfile. These options are loaded from the Profile Selection back on the Fighter Tab.
(Note: With "Use Special Attacks" option you must ignore your weapons in banking profile otherwise the bot will bank them)
Misc Tab
Wait for loot. Tells the bot not loot while in combat.

Uses Teletab when banking. (Note: You Will have to have Withdrew 1 teletab each time it banks or have it ignore them. In Banking profile.)

Uses Glory amulet teleportation, Ring of dueling, and Games necklace when banking and opinion to equip. The bot automatically Withdrew another one when out of charges. (Note: If not equipt must be ignored in banking Profile.

Tells the bot to use a deposit box when banking.

Tells the bot to bury bones. (Note: Add bones to loot list)

Use bones to peaches tablets to change your bones loot in to peaches. The bot will then eat the peaches and Skip banking unless inventory is full of loot.

Not to sure what this option dose but its recommended to use it for the teleporting options above.

Takes a screen shot ever x Min's (x being the number you set). And auto blurs out you name and inventory. Great if you want to save your Paint Progress.

Changes font of Paint progress. (if you don't know what that is you'll figure it out soon enough)

Saves this Bloody misc options to the FightOptionProfile. These options are loaded from the Profile Selection back on the Fighter Tab.
Frequently Asked Questions
1. Will the bot Know which bank to go to ?
Yes the bot automatically Walks/runs to the closest bank.
2. Can i start the bot at the bank or only at the place I'm fighting ?
Yes. If you are loading a Fight Profile from the Fighter Tab you can start the bot anywhere you like.
3. Wheres the option to use potions ?
The bot automatically uses Attack, Strength, defence, Mage, range, and Prayer Potion.
4.Is there a chance i will die?
Yes there is a chance you could die but it is very unlikely. I recommend not botting on monsters way above you level and use a
5. How long should i bot for ?
As long as you want but it is not recommended. I would recommend no more the 3-6 hours a day including breaks. Though i have botted for up to 12 hour.
Put it this way. I tested Jagex and i left this bot running for 5 days straight with breaks and nothing. Then on the 6th day i got banned. Yes i was surprised i made it that far and your probally thinking the same. So its up 2 you.
6. Whats a good place to run this bot?
There are many places to run this bot. It all depends on your level.
I found that the Hill Giants location in the Edgeville Dungeon is a great place to train.
Well anymore good questions i get asked i will add them here.
Thanks for reading hope this helped and GOOD LUCK BOTTING.
How do the bots work?
Jagex created this addicting game we call RS2 using the Java programming language. Our scripters at AutoFighter are able to make the game more enjoyable by using their mastery over Java to create the bots that get you the levels you need to truly start enjoying RS2.
We incorporate sophisticated color-recognition algorithms and advanced programming techniques into every bot we produce. The massive amount of time and effort we put into our products mean you get the safest, most efficient and reliable bots available to players. We guarantee that our products work better than any other RS2 botting systems; try us today
Basic Client Features
Can be minimized to the System Tray
Completes all random events with ease
Incorporates full RS2 anti-ban protection
Ability to bot more than one account within the same client
Automatically prompts you to update the client when necessary
Never takes control of your mouse, allowing you to freely use your computer
What's included in my purchase?
Authorization ID code
Lifetime program updates
Customized support and help
Installation manual & video guide